Virginia Market
No enabling legislation to allow the private market to participate in community solar
Pent-up demand for solar in Virginia is creating a specific demand for community solar
Community solar options are being pursued by cooperatives and investor owned utilities at various levels
Absence of a competitive market will not allow best pricing for consumers of these utility owned options
 DC Market
Final of regulations for Community Renewable Energy Act
Rooftop leases
Low income segment not being adequately served through standard on-premises installations
Virginia Status
VIRGINIA MARKET
No enabling legislation allowing the private market to participate in community solar
Community solar legislation has been pursued in the General Assembly every year since 2011
Agricultural net metering was passed in 2013 and a few projects are underway
Both investor owned utilities and cooperatives have expressed concern regarding…
Pricing required to create a market for community solar without an in state SREC market or other incentive
Non-participants subsidizing participants
Billing mechanism
Loss of distribution and transmission revenue
 Pent-up demand for solar in Virginia is creating a specific demand for community solar
Without any incentives, economies of scale through community solar can provide substantially lower costs than residential rooftop installations.
Solarize programs throughout the state have created a market eager for solar.
Utilities are seeing demand from members and/or customers and are responding.
In the absence of enabling legislation for the private sector, there will be no competitive market for community solar services.
Virginia's Electric Providers
Electricity is provided to retail electric customers by:
Three investor-owned utilities providing 84.2 percent of retail sales;
Thirteen electric cooperatives providing 11.3 percent of retail sales; nine of the cooperatives purchase power from and are members of ODEC
Eight municipal utilities providing 4.5 percent of retail sales.
Investor-owned electric utilities include:
Dominion Virginia Power;
Appalachian Power (American Electric Power); and
Old Dominion Power (Kentucky Utilities).
The 16 municipal electric utilities, serving customers located in their localities, include:
The Cities of Bedford, Bristol, Danville, Franklin, Harrisonburg, Manassas, Martinsville, Radford, and Salem; The Towns of Blackstone, Culpeper, Elkton, Front Royal, Richlands, and Wakefield; and Virginia Tech (serving the Town of Blacksburg).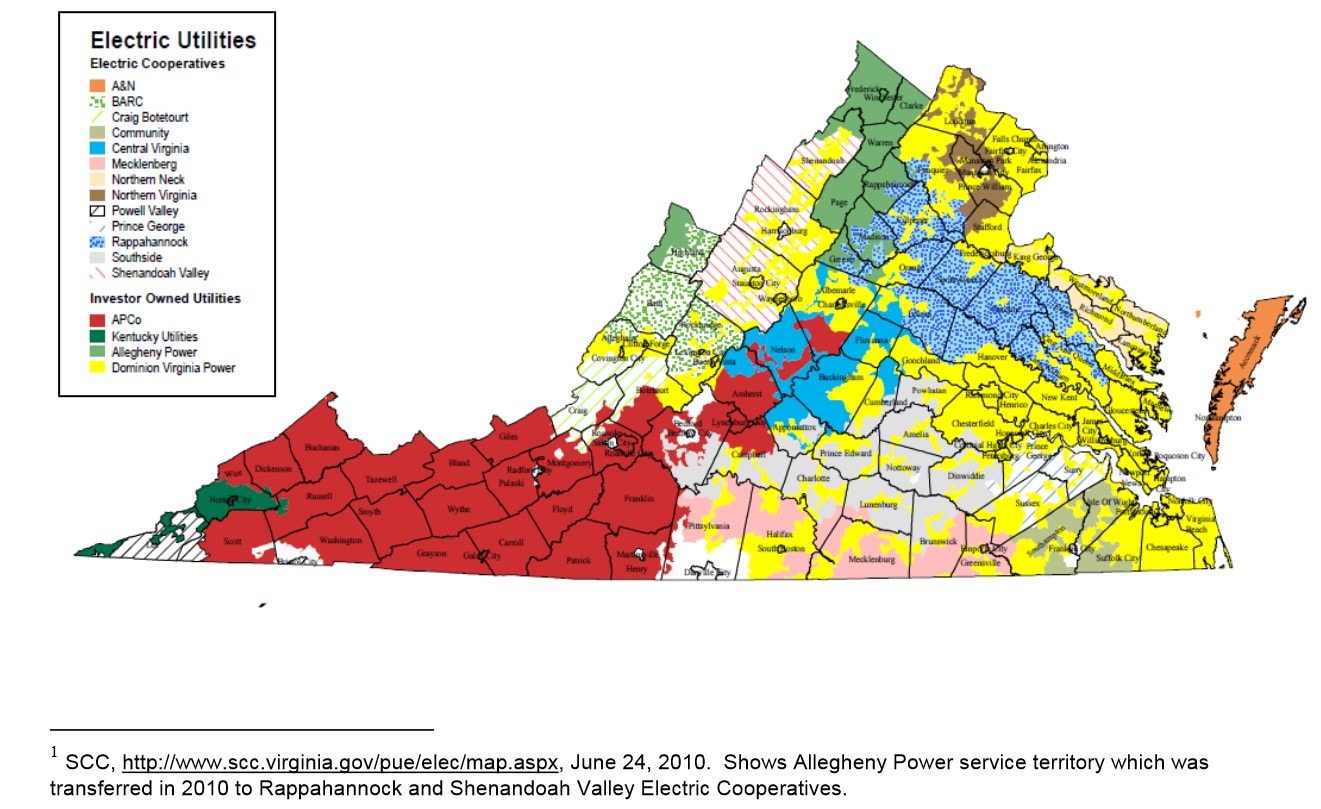 Virginia projects in development
BARC – 500 kW
BARC will build (through a solar EPC contractor), own and maintain a large solar array on behalf of customers who subscribe to the output.
Funded in part by a grant of $500,000 from the Appalachian Regional Commission and a grant of $250,000 from the United States Department of Agriculture.
Customers have no upfront capital costs and no maintenance responsibilities, while still enjoying all the benefits of solar as if it were sitting on their rooftops.
On a first-come, first-served basis, we will offer "solar subscriptions" to the facility's output, enabling customers to take up to 25% of their annual average energy consumption from the project – at a rate that is fixed for many years
If the project oversubscribes before it is built, we will run a lottery and maintain a waiting list for future system expansion.
Pricing not established.
 ODEC – 30 MW
RFP issue in July for a total of up to 10 MW of PV based solar power from projects ranging in size from approximately 1 MW up to 10 MW.
Power purchase agreements should have a minimum term of ten (10) years and a maximum term of twenty.
ODEC may wish to utilize any solar facility with which it has contracted as a component of a community solar project with one or more of its members.
ODEC has awarded two contracts totaling 30 MWs.
Community solar options to member cooperatives and pricing has not been established.
Dominion Virginia Power – 2 MW DCS Rider
Qualifying customers may purchase electric energy from a 2 MW Dominion-owned solar facility located in Virginia.
Facility to be constructed under blanket CPCN granted to Dominion for the Solar Partnership Program.
Allow Dominion to gather information about the appeal of a subscription based solar model.
Proposed as an alternate to net energy metering, although not replacing.
100 kWh blocks solar at $4 per block, or 4 cents per kWh in addition to customer's bill.
Cost for program is determined by taking the cost of the energy ($0.141/kWh), then subtracting certain credits to lower the cost for participating customers. These credits are for capacity value ($0.004/kWh), value of energy ($0.046/kWh), and SRECs ($0.051/kWh).
Cost of the power ($0.141/kWh) is determined using a regulated cost of service methodology (EPC costs are estimated at $2.10/watt) which is then converted to levelized cost per kWh.
Recommendations for Virginia
Investor Owned Utilities
Pilot community solar is promising although at a 4 cent per kWh premium above retail this is not a true option to net energy metering.
Credit rates for community solar should be established that provide full value for solar energy and its attributes while ensuring that program subscribers bear all incremental program costs.
Private industry should be allowed to develop projects as well to determine a true market index for this product offering.
SREC pricing that accurately reflects the market should be used to avoid unrealistic expectations of subscribers.
Cooperatives
Continue education of members regarding the benefits of solar and community solar.
Listen to members and their request for community solar offerings.
Engage the assistance of the private sector to create these programs at lowest cost to members.
Fair credit rates for community solar.
DC MARKET   
Issues to address
Finalization of regulations for Community Renewable Energy Act
Distribution charge not included in credit rate.
Real estate is a premium, therefore rooftop leases will be required to satisfy demand.
Local and Federal Governments have not been will to open rooftops for private development.
Commercial property owners are averse to entering into long term rooftop leases.
Minimal returns when compared to risks
Uncertainty regarding future use of rooftop space
Impact on property value
Roof warranty issue
Roof replacement costs
Despite the efforts of the DC SEU the low-income segment is continuing to be underserved in the DC market with regards to solar energy. A larger proportion of low-income residents in DC are not eligible for installations on their homes.
Recommendations for DC
Governments should establish long term programs with scheduled release of rooftop space.
Education for commercial property owners regarding risks, cost, and benefits of community solar.
Incentives to commercial property owners to create market for rooftop leases.
Community solar incentive specifically for low-income market segment.