By the Randolph Solar Development Team
On March 15, we were thrilled to host nearly 100 guests at the third Randolph Solar Community Meeting. Greeting our project landowners, neighbors, County Administrators, and community members were members of the SolUnesco team, Dominion Energy team, and Kimley-Horn's engineers.  
Under four bright tents, guests took in the interactive project maps along with posters detailing the Randolph Solar project's wildlife conservation efforts, phases of solar project development, the latest updates to our project's Conditional Use Permit Application with Charlotte County, and much more. 
Most exciting is that the meeting was hosted on a parcel of land that will be included in the project, giving guests a first-hand view of possible panel locations, and how solar equipment will be well buffered and secluded from neighbors and roads. 
Our staff enjoyed meeting and chatting with our guests and answering questions about the safe and low-impact energy generation of solar and the multiple ways Randol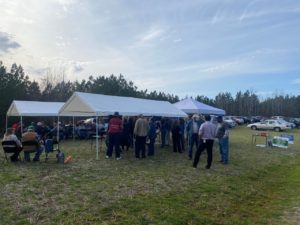 ph Solar will protect and preserve land and wildlife.  
We were especially glad to have many local business owners attend who were interested in the South-Central Virginia Business Alliance (SCVBA). We're looking forward to 
having many new members joining the alliance, and continuing to promote the best in local goods, services, and labor in the South-Central region. 
We'd like to especially thank our vendors: Economy Grill, Party Tyme Rentals, and Printing Plus. We also appreciate the venues that helped us advertise the meeting: The Charlotte Gazette, The Southside Messenger, and The Mecklenburg Sun. Finally, thank you to all our guests who responded to our invitations via letter, Facebook, and community paper ads. Communities like Charlotte County are what makes our work so exciting and gratifying.