All too often during my 26 years in the roofing and waterproofing business I have seen the commercial real estate and construction industries at odds with environmental activism.  LEED certification and increased emphasis on sustainable design has definitely eased this adversarial relationship, but to a large extent, for right or wrong it still does persist.  There are moments during our careers, however, when we find that not only do occasionally opposing forces have the same agenda, but should certainly work together toward a common goal.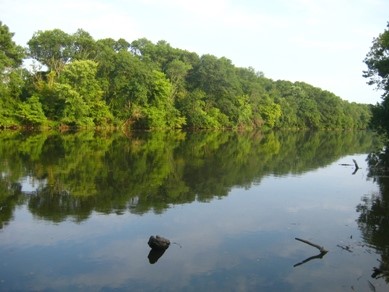 The development of the Anacostia Waterfront through the Anacostia Waterfront Initiative is one of those moments.  A clean, swimmable, fishable Anacostia River is one of the many goals of the Anacostia Watershed Society and our industries stand to benefit from their eventual achievement of these goals.  With this in mind SolUnesco is proud to support the efforts of this organization and we would like you to join them.
We invite you to experience the Anacostia River and network with the Anacostia Watershed Society on a unique pontoon boat tour of the river. The Anacostia is fast becoming a focus point for development, and an asset for the city's businesses and residents. It is also being discovered as an outdoor recreation destination in the heart of the city (see August 20 Washington Post article, Anacostia River shapes up as a fitness destination).
The two-hour round-trip river tour begins and ends at the Bladensburg Waterfront Park in Bladensburg, MD (MAP), and will travel down-river through the District; wildlife will also be a part of the tour with sightings of blue herons, egrets, turtles, and other wildlife likely.
The pontoon boat trip is hosted by the Anacostia Watershed Society, the nonprofit organization dedicated to cleaning up and restoring the Anacostia.  Your suggested $50 per person donation goes to support ongoing work to clean up and restore the Anacostia.  Space is limited so please reserve you spot today!
Please RSVP to reserve your spot by contacting Mary Vasse, Anacostia Watershed Society, mvasse@anacostiaws.org, or 301 699-6204 ex 116